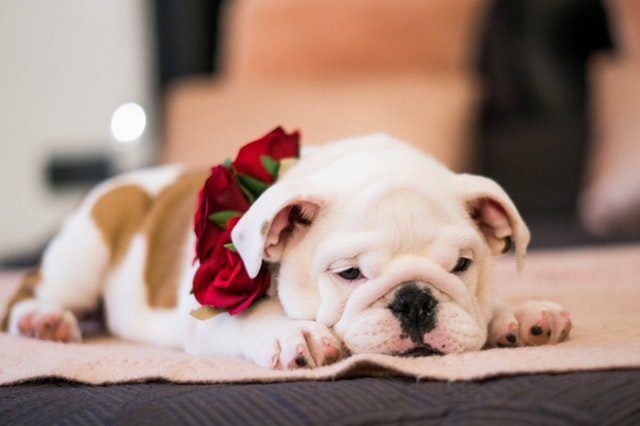 With regards to bulldog whelping services you would want the services of an experienced and highly regarded breeder or a whelper that knows their way around your bulldog and has skill in what they are doing.
At Candy Mountain Bull Dogs we treat your dog and the litter like our own children and we have created a special bond with every dog we had and we will do the same with your dog when it requires the most comfort at the time of her pregnancy. We understand that at that crucial time there is a lot at stake and if things are not taken care off in the right manner a lot can go wrong instantly. When it comes to whelping services for bulldogs in Georgia for any case of emergency for the mother dog we are literally just a phone call away from your doorstep to assist you and your dog in those stressful times.
Why Should You Choose Bulldog Whelping Services?
We believe that just like humans every dog that is close to giving birth to a litter of puppies and even newly born puppies need around the clock care especially in stressful times of the pregnancy. You may be busy with your work, you may have a family event that you need to travel to and you can't say no to or you may be travelling somewhere for anything and it is important. Regardless, you love your dog more than anything in your life and you may be stuck.
Or, it can also be the case that you have no experience with whelping or giving birth to a litter of puppies. In any case, we have got your back and we will take care of your dog in these stressful times for her.
Get in touch with us now by giving us a call if you find yourself in a position where you can't be with your dog when she is about to give birth and you are unable to accompany her to make certain that everything turns out fine. As mentioned above, we offer around the clock monitoring for your dog by making sure that the mother gets proper professional assistance whenever it is necessary and whenever she needs it.
Another reason why you should consider the assistance of a whelper or a breeder is that like many owners they may want to breed their dam but they don't have the time, facilities and the required experience to successfully get through to it without anything going south. The thing is that whelping newborn puppies and assisting the mother during those stressful times of pregnancy are very crucial and it can take a few weeks to raise a litter of healthy and happy puppies and to take care of the dam.
Furthermore, it is crucial for the whelper being it you or the people you called to deliver the pups that the mother dog and her pups remain calm and again if you don't have enough experience with the process a lot can go wrong in the matter of minutes. An agitated mother dog can become the danger to her pups and her own self if she gets anxious and stressed at a given time during the delivery so it is very crucial for the whelper to assist her to stay calm while the litter is being delivered. Unlike human beings getting a dog to calm down is a tricky process especially during the times when she is flooded with cocktails of chemicals that are messing around with her mental and emotional state. So it is very important that the whelper understands her situation and controls it and this is especially the case with bulldogs. If anyone does not have enough experience with the process they may end up with a delivery disaster. This is precisely the reason why we believe that you should hire the services of a professional dog breeder and whelper.
What is more is that, once the litter has been delivered it is even more crucial that you monitor the pups for the next 8 weeks to make certain the pups are in good health along with the mother. It also takes time and a lot of effort on your part and if for any reason you cannot provide it, you should definitely consider the help of bulldog whelping services for your dam and her pups.
How Can We Help?
Our approach to whelping services for bulldogs is simple; we like to base it on our special approach to bulldogs.
We make certain that our bred dogs are health tested according to the recommendations and guidance from AKC (American Kennel Club) primarily The Bulldog Club of America. We make sure that we uphold the same health standards for your bulldog and her litter as well so they grow up with the best health possible for them.
We make certain that we are educated on the latest information on the best breeding practices to ensure that the bred puppies are the breed of the most healthy and happy puppies that your dam can produce. Furthermore, we try to employ same practices while helping you out with your dog's breeding as well.
We also take full responsibility for the health and wellbeing for your puppies for all the time that they are with us to ensure that they are raised properly with the best health standards and around the clock care for the mother and her litter.
We are fully aware that dogs are emotional and sentient beings that like to be around people and they like to be fondled with all the love and affection in the world and this is important especially when your dog is in the labor. So we take full responsibility to provide your dog with all the care she needs to deliver healthy puppies and raise a happy litter of puppies.
If you're looking for bulldog whelping services, kindly get in touch with us. We are just a phone call away from your doorstep in Georgia with our assistance.